Welcome to Polyclinique les Narcisses
A multidisciplinary clinic at the center of Marrakech
MORE INFO
CONTACT

Welcome to Polyclinique Les Narcisses
A multidisciplinary clinic at the center of Marrakech
MORE INFO
CONTACT
The clinic
Polyclinique les Narcisses medico-surgical entity located in the center of Gueliz, which offered for more than 30 years comprehensive and multidisciplinary care. ui offre depuis plus de 30 ans une prise en charge globale et pluridisciplinaire.
The clinic
Thanks to the development of a technical platform at the cutting edge of progress and the attentive care of our teams, Polyclinique les Narcisses presents competencies that are entirely dedicated to our patients.
The clinic
Moreover, your well-being is our priority. We make sure that your stay at our polyclinic won't be a break with your family environment and will preserve as much as possible a warm human dimension.
The clinic
Constantly in search of development, the polyclinic adapts to your needs to guarantee and expand its range of care.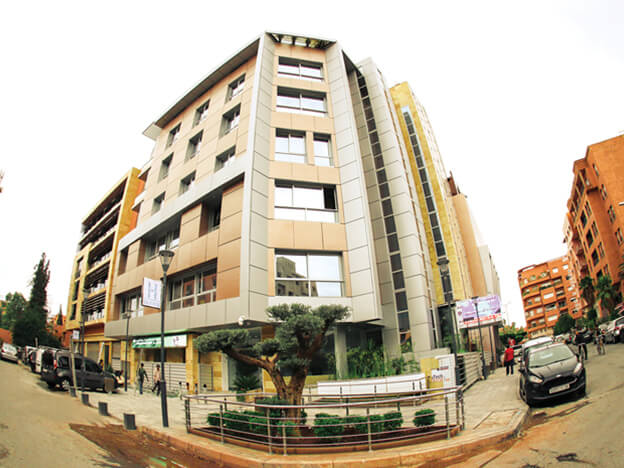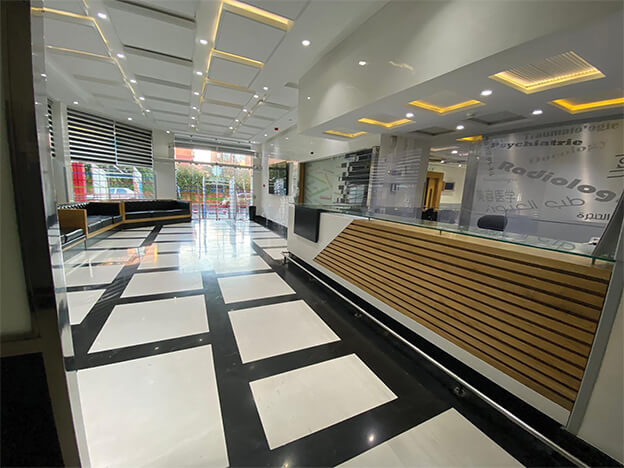 Main services
The polyclinic Les narcisses offers a wide range of medical specialties thanks to its equipment equipped with advanced technology and its qualified doctors.
News & Blog
Find all the latest news on health in Morocco and various medical articles on our blog.
Le Rapport Général sur le Nouveau modèle de développement (NMD) prévoit le projet "couverture sanitaire universelle", dont l'ob
En réponse à une question orale à la Chambre des Représentants sur les préparatifs du ministère pour la généralisation de la co
La délivrance et la prescription des psychotropes au Maroc seront bientôt soumises à des règles plus strictes avec la mise en p
24/24 hours
Our centers of excellence
Emergencies
Cardiology
Radiology
Urology
Ophtalmology
Gastroenterology
KINESITHERAPY
Emergencies

Polyclinique Les Narcisses has an emergency service that operates 24/7.

The emergency department of Polyclinique Les Narcisses aims to offer a service dedicated to the rescue of patients and injured people, at home or on the public highway for early treatment of the most serious cases.

Cardiology

The cardiology center takes care of patients with:

-cardiovascular pathologies, valve pathologies (under cover of the surgical team).
-Ischemic and rhythmic (exploration and treatment of rhythm disorders, pacemaker)

It consists of an intensive cardiological care unit, an angioplasty coronary angiography room, a functional exploration unit (cardiac ultrasound, stress test with a safety system, blood pressure and rhythm Holter) and an inpatient unit.

The cardiology center takes care of all cardiac pathologies.

Radiology

In the basement of the clinic is a Radiology center Well equipped with a very recent and high performance technical platform

-Open MRI
-Cardiac MRI
-3D multi-strip scanner
-Cardiac Scanner
-Digital mammography
-Ultrasound and doppler
-Digital radiology
-Interventional radiology
-Bone densitometry
-Dental panoramic
-Dentascan
-Cone beam

Urology

Urology in our clinic provides urological care in all segments of the discipline (Kidneys, bladder, prostate, OGE) including cancerology.

The technical platform includes in particular :

-Endo Urology and laparoscopic surgery (laparoscopy) in urology
-Fragmentation and endocorporeal vaporization of urinary stones (bladder, ureters, kidneys) with a 30 Watt Holmium-Nd-Yag Laser;
-Semi-rigid ureteroscope and flexible ureterorenoscopy
-Extracorporeal lithotripsy for urinary stones
-Endourological explorationsUrinary incontinence surgery
-Surgery for urogenital prolapse
-Cancer surgery in urology

Ophtalmology

The ophthalmology center is a modern and developed structure whose ultimate objective is to provide all possible care in the best conditions to patients.

For this, the whole team is working to use the most recent techniques in order to optimize medical care.

Gastroenterology

Gastroenterology involves diagnosing and treating diseases of the entire digestive system, including the esophagus, stomach, small intestine and colon, liver, pancreas and gallbladder.

KINESITHERAPY

This service will take care of you either during your hospitalization after hospitalization, or during a consultation in our center.

-Shock wave
-High intensity laser
-Trauma rehabilitation – Sports physiotherapy
-Rehabilitation in neurology
-Rheumatology rehabilitation
-Pediatric rehabilitation
-Rehabilitation and rehabilitation in cardiology
-Perineal rehabilitation
-Lymphatic drainage
We are here for you
Making appointments
À toutes les personnes qui m'ont aidé après mon accident, j'ai voulu simplement dire merci pour les soins que vous m'avez tous donné nous sommes de retour maintenant et Dieu Merci grâce à vous. On attend le retour un jour à Marrakech et nous espérant vous rendre visite (j'espère comme visiteur seulement !) J'espère que vous allez tous bien et merci encore une fois.
Chère infirmières. voila un petit souvenir de nous temps dans votre clinique encore une fois je vous remercie beaucoup de votre gentil soins. je vous souhaite une longue et heureuse vie. j'espère que vous allez tous bien et merci encore une fois salutation.